Nguyễn Sinh Vượng
SMU, Singapore
After graduating from junior college, Nguyen Sinh Vuong found himself torn between studying Politics, Philosophy and/or Economics. He was interested in all three. A friend told him: "You can do all three if you apply for Law", and that sealed the deal.
He joined Singapore Management University's (SMU) School of Law (SOL) and graduated in 2019 with the honour of DBS Bank School Valedictorian for SMU SOL. He says: "My grandfather has rightly advised me that a just legal system is a necessary ingredient for a prosperous nation. I want to use the knowledge I've acquired for the betterment of Singapore as well as Vietnam, where I'm from. SMU has done a great job at (imparting this knowledge)."
We sat down for a chat with Vuong and here are some of the reflections he shared with :
What was your favourite module at SMU?
It's hard to choose a favourite module because I enjoyed a lot of them, but if I had to, it would be Introduction to Political Studies by Associate Professor John Donaldson. What made it so memorable was Assoc Prof Donaldson himself—he was brilliant, kind and had so much passion for the subject.
I will always remember his words to us near the end of the course: "We live in a world where there is enough food for everyone, but for some reason, not everyone is being fed. I hope you all can do something about it." This really stuck with me. I do hope to do something about this in the future.
What were two key skills you picked up at SMU?
First, I learnt how to read things effectively. Law classes usually have heavy reading lists; and I also took part in mooting competitions, which essentially involve participants taking part in simulated court proceedings. These required me to read a copious amount of literature in a very short time frame. I learnt how to quickly go through documents, capture key ideas and make them stay in my brain.
The second skill was learning how to speak: Studying law is hard, but "speaking" law is even more difficult. Thankfully, my experience with group presentations and moot competitions taught me to convey complex law-related ideas in a simple manner.
What co-curricular activities did you take part in and what did you learn from them?
I was the Honorary General Secretary of Chao Vietnam, SMU's Vietnamese Society. I wanted to have some fun and contribute to SMU's Vietnamese community, especially since I was the only Vietnamese in the law school.
I also participated in a few mooting competitions, because I had an appetite for "pain"—moots are difficult, but I believe in trial by fire. Moots were also a great opportunity to sharpen my advocacy skills and form meaningful bonds.
How did studying at SMU challenge you both academically and personally?
Law school was academically challenging, especially at the start. We had to learn to think "like a lawyer", and according to my Contract Law Professor, "if you want to think like a lawyer, you just have to not think like a normal person". It took some time getting used to this idea, but eventually, I got the hang of it.
When you go to university, you also become your own boss. That means you and you alone are responsible for how you allocate your time. I love video games, and as a result I may have spent slightly too much time on them at the start of law school. I eventually learnt to be disciplined and prioritise better.
Coping with the reading list that law school threw at me was a big challenge. I overcame it the old-fashioned way: by reading, reading and reading. It's not that different from learning how to be a competitive eater I suppose—eventually your brain (or your stomach) will just stretch out a bit.
It was also tough to balance the three billion things that law school threw at me. I overcame it, funnily enough, by sleeping more. Getting enough sleep at night made me more efficient, which, in turn, gave me more time to sleep.
If you could go back in time, what is one piece of advice you'd give your undergraduate self?
I'd say to read more, especially books on subjects not taught in school. I believe that the more one reads, the more he or she will understand "the big picture", which is how everything fits together in the grand scheme of things. Personally, when I read books on politics, economics and philosophy in my spare time, I learnt to better appreciate the law and its role in society. It also helped me write better essays! In general, I believe if you read more, you will become a sharper, brighter, and especially kinder, individual.
(Source: SMU Social Media Team)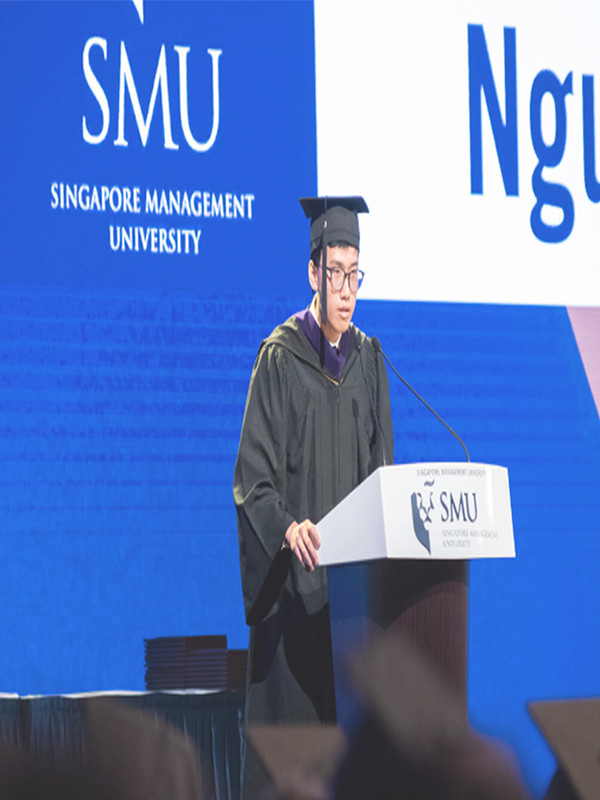 "Bachelor of Law – SMU, Singapore"
- Nguyễn Sinh Vượng