Hồ Trịnh Thùy Dương
Edinburgh Napier University, Anh Quốc
At 21 and running a small online store selling skin care and cosmetic products in Hanoi Vietnam whilst she was still obtaining her Bachelor in Banking in Finance in 2014, Kassie was not unfamiliar with the ins-and-outs of running a business.
As her business gained traction, she felt that more support and expertise was required to run her shop well. She partnered with friends to run the store to help run the different aspects of the business. As her business continued to expand, Kassie realised she needed more than just her Bachelor's degree to take her business and career further.
These came at an opportune time when Kassie's parents urged her to obtain a postgraduate degree. As her graduation was fast approaching, Kassie had to make up her mind fast. She was certain it would be business-related, but at which university? Singapore came to her mind as it is well-known for its excellent quality in education amongst many of its merits.
In 2015, Kassie eventually enrolled into the full-time Master of Science International Business programme offered by Edinburgh Napier University (ENU) at PSB Academy because she was strongly passionate about business and it offered matched qualities of local universities. With management being her long-standing interest and business a hobby of hers, it was no surprise that she found the course to be meaningful and enjoyable.
Through her course, she found herself reading more widely and motivated in doing her assignments, as well as picked up important skills such as time and emotional management in her course. Kassie also joined the writing club to express herself in literature and had one of her stories featured in the school's magazine, AZidea. By joining a group of like-minded individuals, she learnt the importance of proactivity and independence in solving problems, which kindled her enthusiasm to learn and do what she is passionate about. Thanks to the local student engagement staff and tutors were always ready to help, she was able to make full use of her time as a student.
One of Kassie's best memories was the graduation day itself in November 2016. Sharing the joy and sense of achievement with her classmates was a very special occasion because it was a formal recognition for the long hours and hard work they have put in their assignments and exams. It was a very rewarding and satisfying experience for her.
Throughout the gruelling year of her course, she held in high regard a fellow student who scored consistently well, and whom eventually won the class medal for the best performing student of his cohort. His dedication and will to do his best motivated Kassie to do better.
To students considering furthering your education, she'd like to quote Mrs. Obama with "Empower yourselves with a good education, then get out there and use that education to build a country worthy of your boundless promise."
Today, Kassie is a Financial Consultant at Manulife in Vietnam, a multinational insurance company and financial services provider. She aspires to help more Vietnamese to be financially secure and their healthcare protected by saving and / or investing wisely.
(Source: PSB Academy)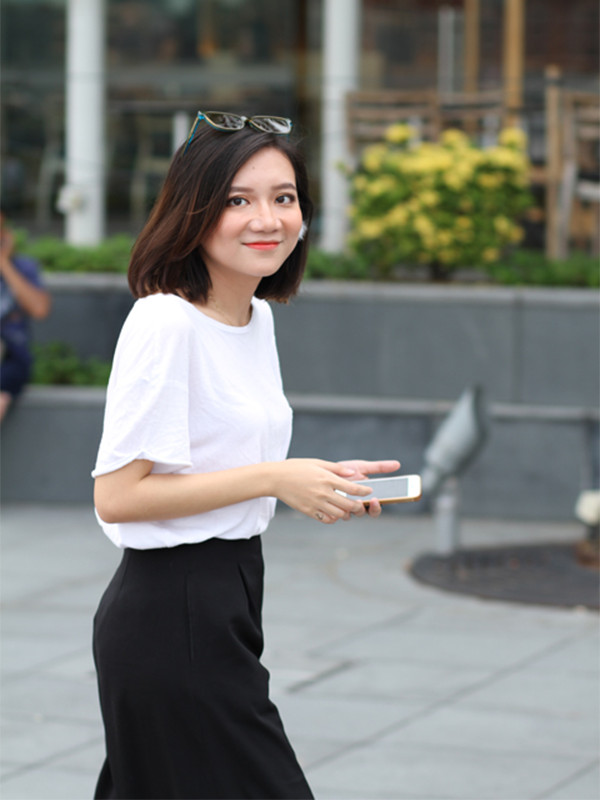 "Master of Science International Business Management - Edinburgh Napier University, Anh Quốc"
- Hồ Trịnh Thùy Dương